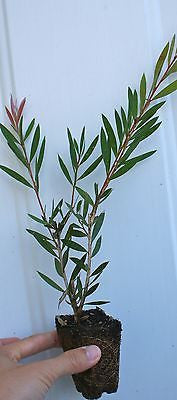 Callistemon Bottlebrush ~ 'Woodlander's Hardy'
Want to grow Bottlebrush in cooler climate, now you can with this cultivar: Callistemon Bottlebrush 'Woodlander's Hardy', also called 'Hardy Red'. Can be grown outside to zone 7. 
Bottlebrush has dense low-branching growth habit. The narrow and long leaves tend to grown at the ends of the long hanging branches, creating a weeping and airy effect. 
The plant offer is similar to the plant in the photo, over 8" tall from the soil line.  
---
Share this Product
---
You may also like